Being smart, safe in the new normal Investing in homes in 2021
posted April 24, 2021 at 06:40 pm by Manila Standard
The year 2020 caused a shift in lifestyle for homeowners and homebuyers everywhere. Previous trend reports revealed a shift towards fringe cities and other booming regions south of the metro, while faster-growing pageviews for properties such as land and houses indicated a leaning for listings with larger floor areas.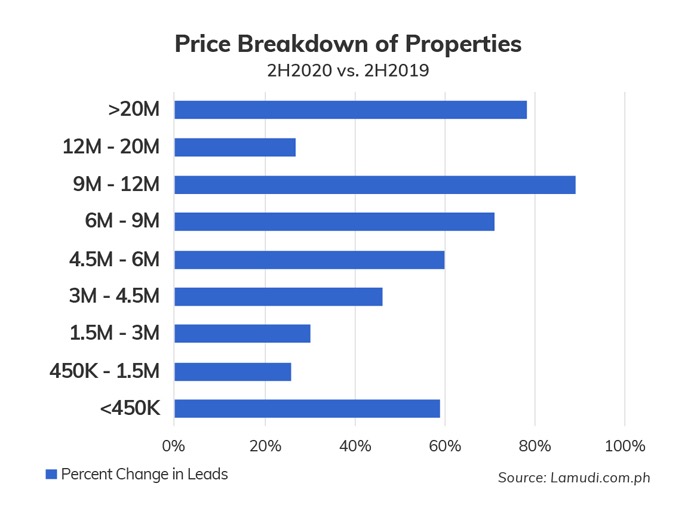 As the home becomes the place where individuals spend most of their time in and do various activities in their daily lives, choosing the ideal property has become important.
Lamudi recently came out with a report to assess real estate market preferences in 2021 as industries recover from the pandemic, and identify which segments boomed or softened amid the crisis.
Attractive properties for older homebuyers
As of January 2021, houses were still the most popular property type, contributing 48 percent of all pageviews for that month and attracting the most pageviews from each age bracket. It was the property type that attracted the most property seekers aged 65 and up. While foreclosures contribute a small share of total pageviews, it is one of the fastest growing property types, having increased by 23 percent in 2020. Out of all the property types, foreclosures activated the most interest from the 55 – 64 seeker age group.
Brokers and sellers are encouraged to retain engagement with older property seekers, highlighting investment in homes to pass on to the younger generation as well as the need for smart homes to accommodate the growing bandwidth demand for students and young professionals.
Luxury options.
Leads for properties across all price ranges increased in the second half of 2020, signifying a stronger conversion from views on listings posted on Lamudi and a more aggressive demand from property seekers.
In January 2021, low-cost housing was the most attractive price point to potential buyers as the 1.5M to 3M price range contributed the highest share of leads (17 percent) for that month.
Properties priced between 9M and 12M experienced the highest growth in both pageviews and leads, with the former increasing by 50 percent and the latter by 89 percen.
Leads within the 12M to 20M price range received a slightly lower share of leads in January 2021 compared to its performance for the whole 2020, while the high-end 6M to 9M range increased its lead share this January. This may indicate that buyers within the upscale price segments may be adjusting budgets or considering other price segments for their investments.
Soft demand in CBDs?
In Lamudi's COVID Report published last year, high-end cities in metropolitan centers weakened as cities such as Makati and Muntinlupa experienced a decrease in lead share in the onset of the pandemic.
Though leads for Makati in that same period decreased, it still contributed the second largest share of leads in January 2021 at 23 percent. In addition to having a bustling commercial center, Makati hosts a concentration of green pockets amid walkable neighborhoods such as Legaspi Village, Salcedo Village, and Poblacion—a feature growing in demand from property seekers.
Pasig and Quezon City also posted impressive growth figures, with the former increasing by 21 percent and the latter by 26 percent in the second half of last year. Quezon City continued to attract the most number of pageviews among cities with CBDs, possibly driven by its proximity to a large employee base from the universities in the area as well as its access to industrial spaces in provincial cities up north.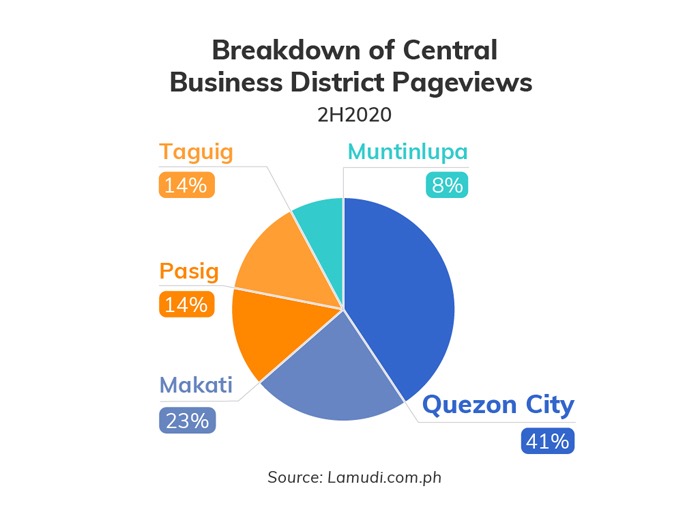 Good governance, good news in fringe cities
Cities located within the fringes of the metro continued to rise in popularity in 2020. Pateros - which holds the smallest share of pageviews for fringe cities - attracted the largest growth in both pageviews and leads in the second half of last year compared to the first.
Caloocan exhibited the highest growth in leads for that period. The city is on track to becoming the most significant driver of leads for fringe cities in 2021, with Caloocan contributing the greatest share of leads at 52%.
Developers and brokers are encouraged to watch out for vacant commercial and residential space in these areas. Marikina contributed 43 percent of all pageviews for the fringe cities assessed, owning the largest share of pageviews for the location group in 2020. Valenzuela, which saw a 65 percent surge in leads and a 58 percent increase in pageviews, earned the second highest.
Rental markets
With consumers spending most of their time at home throughout 2020, more property seekers were considering homes close to nature. Homes by the beach grew in popularity last year, with Batangas Province earning the highest growth in leads among the identified leisure destinations at 143 percent in 2020.
Lapu-lapu City in Cebu, home to a number of resort-style residential developments, amassed 30 percent more leads and 12 percent more pageviews last year.
Antipolo posted positive demand figures in the latter half of 2020, with leads increasing by 88 percent and pageviews rising by 86 percent.
Tagaytay also experienced a growth in pageviews last year, having increased by 27 percent. The city is on track to leading demand in 2021.
Preference for open areas
Property seekers prioritized spaces for fitness such as a swimming pool, which was the top sought-after amenity in 2020 at 17 percent of pageviews for the top 20 searched amenities.
Having open spaces such as balconies and gardens composed around 11 percent of all pageviews in 2020. With more consumers showing a preference towards safe and open areas, brokers and developers are encouraged to equip their projects with value-adding amenities such as open leisure and active centers, complemented by features such as contactless elevator buttons, automatic doors, and other precautions to minimize contact.
Safe, secure homes in demand
Having a wireless internet connection attracted as many pageviews as security-related features in 2020, Lamudi said.
Developers are encouraged to have basic security features such as an attentive 24-hour security staff as well as CCTVs in less exposed areas such as parking lots.
Having digital security solutions such as app-controlled amenities and visitor screening systems in place would be an attractive addition to the majority of property seekers.
With more potential buyers belonging to the digitally savvy Generation Z entering the real estate market, intelligent homes with built-in high speed connection and home automation features are seen to grow increasingly desirable. Developers are encouraged to have the proper digital infrastructure in place as demand increases.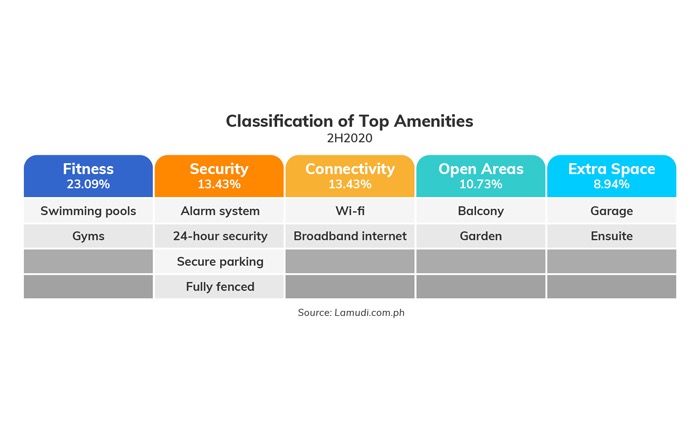 People want to be productive, connected
The past year has shown that the demand for real estate in certain cities is driven not only by the presence of large infrastructure development projects, but also a city's ability to be agile and adaptive to change.
Some notable investment areas are marked by its response to the times and efforts to improve its citizens' quality of life – from Central Business Districts that opened their streets to alfresco dining, to quick and reliable governance in fringe cities, to bike lanes in key cities outside NCR, to nature-oriented homes in leisure destinations and ecologically friendly residential projects.