Description
Prime Commercial Lot For Sale at the Shophouse District of Boracay Newcoast, Malay, Aklan
---
Prime corner lot
Commercial purposes
Shophouse District
354 sqm.
PHP56,497/sqm.
PHP20,000,000.00
Boracay Newcoast is an integrated tourism estate with world-class resort offerings. It is the first and only master-planned leisure-oriented community in Boracay. Situated northeast of the island, it is a fresh tourism-inspired development that will help Boracay attract more tourists and investors over the long term.
This 140-hectare development is situated at the Exclusive North Eastern part of the island.
At the center of its 1-kilometer white beach is an expansive grand plaza called Newcoast Station. This centerpiece also serves as the entertainment center and take-off point towards the other features of this integrated tourism estate. It is surrounded by hotels and an array of various leisure selections and activities to choose from.
SHOPHOUSE DISTRICT
The master stroke that makes Boracay Newcoast a work of art is its blend of old and new, organic and deliberate, rugged and refined. Headed by the chief executive of Global-Estate Resorts Inc., a team of master planners traveled the globe to find inspiration for the community's Shophouse and Boutique Hotel districts.
These two seaside districts, virtually shaped by the most beautiful destinations in the world, offer a nod to the aesthetic and architecture of Oia and Fira in Santorini, Greece; Ibiza, Marbella, and Barcelona in Spain; Key West, Fort Lauderdale, Palm Beach, Miami, Martha's Vineyard, Santa Monica, and San Diego in the United States; and Bali and Phuket in Asia.
The structure is three stories in height, with a narrow face and a long length. The bottom floor has been designed to accommodate a commercial enterprise such as a shop, restaurant, coffee shop etc., while the upper floor or floors are intended for residential use.
The shophouse is designed to be built in a terraced design, with a row of shophouses abutting each other along a street. Each shophouse shares walls with the neighboring structures.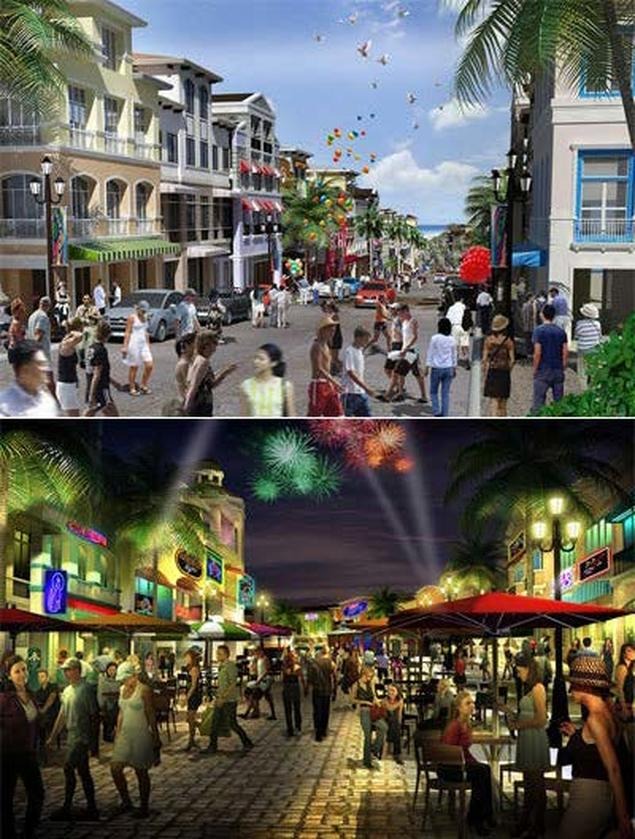 Mixed work/live buildings for Restaurants, Bars, Al-fresco, Cafe, Souvenir Shops
Each lot has an average area of 300 sq. m.
Cut 15 meters (frontage) x 20 meters (depth), no sides divided by firewalls
Height requirement the of building is limited to 14 meters (from the road)