Description
Prime Cul De Sac Lot For Sale at Crosswinds Tagaytay, Great View, Near The Swimming Pool
---
Prime Lot
601 sqm.
Block 4
Near the main gate
Walking distance to the coffee shops & restaurants
Cul de sac
Facing a Park
Near the swimming pool
Ridge lot perfect for a multi-level house
Sloping downwards
Resale lot
Great deal at PHP22,000.00/sqm.
PHP13,222,000.00
Experience the Best, Experience Crosswinds
Imagine living your day-to-day life in the beautiful Swiss Alps, waking up to a breathtaking vista of rolling hills, green valleys, and lush greenery. Imagine living in the best kinds of luxury homes, in the most high-quality residence, with an ultra-exclusive community of like-minded peers, without having to sacrifice accessibility and convenience.
You can get all of these and more when you experience Crosswinds in Tagaytay.
Experience Crosswinds: A Swiss-inspired Haven
An image of serenity and purity, Switzerland is a dream come true for both mountaineers and city-dwellers who want to get away from the rush of urban life. With Switzerland, you can enjoy the beauty of rolling green fields, forests of mysterious pine trees ripe for exploring, and a tranquil environment that is always ready to enfold you in its refreshing embrace.
Luckily, this dream can come true if you experience Crosswinds, right here in the comfort of your home country.
Located in the south of Metro Manila, Crosswinds is a sprawling 100-hectare luxury property that is heavily inspired by the Swiss lifestyle, containing the only Swiss-themed luxury homes in the Philippines. It sits practically beside the Tagaytay Picnic Grove which you can get to under 5 minutes and is less than 7 minutes from the Tagaytay Rotunda, a hub that houses Tagaytay's most popular activity areas and best restaurants.
More than that, Crosswinds in Tagaytay embodies the spirit of the Swiss lifestyle. Away from the bustle of Metro Manila, birdsongs and the rustle of leaves dancing in the breeze replace the chaotic buzz of the city. Stale, smoke-filled air is replaced with the freshest mountain breeze, suffused with the fragrant scent of pine and the mustiness of the earth. The ever-present noise of a city that never sleeps is replaced with the serenity of rural mountain life, hidden away from the cares of the world.
Savor: Fine Cuisines
But of course, although the environment and the scenery are of prime importance, a beautiful life requires much more. Good food and healthy relationships are prime requirements of satisfaction, and in those aspects, Crosswinds doesn't let itself be surpassed.
In addition to this, Crosswinds is filled with hang-out spaces with top-quality food, where you can savor every gastronomic bite or simply hang out with friends.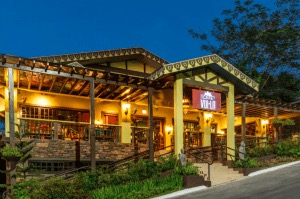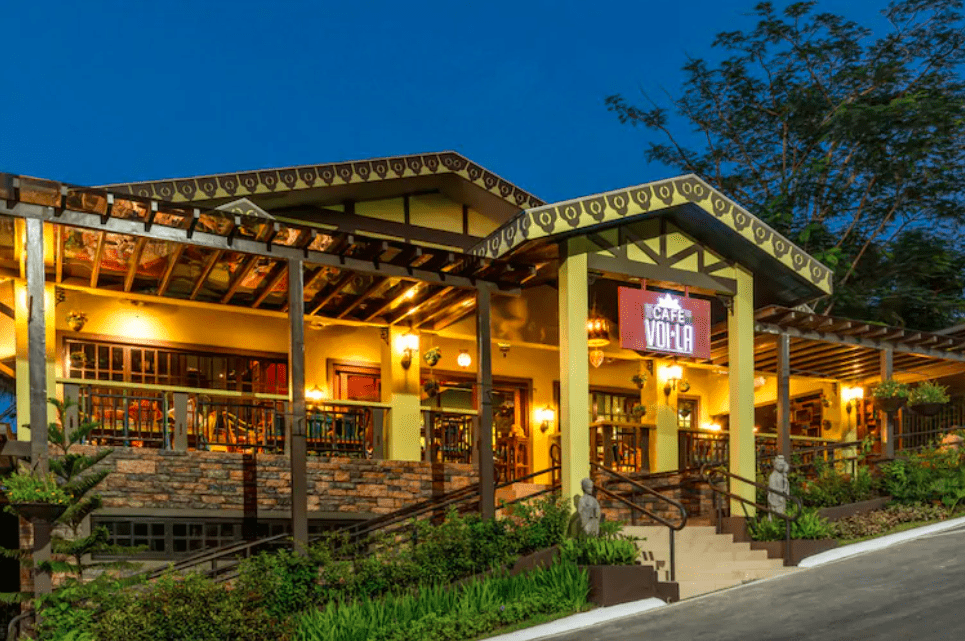 Enjoy the vast views of the European countryside at Crosswinds while dining on all-day breakfast favorites at Cafe Voi La. (Image by Cafe Voi La / Zomato)
CAFÉ VOI LA
True to its Swiss inspiration, Crosswinds offers an international trip for your tastebuds through Café Voi La's diverse food offerings. This is Crosswinds' restaurant where you can grab breakfast, lunch, or dinner, with its menu filled with dishes from all around the world.
With its beautifully designed interior, amazing food, and luxurious ambiance, dining in Café Voi La is a whole experience altogether.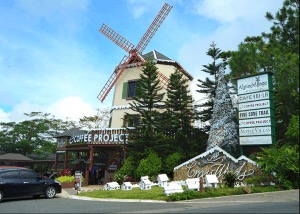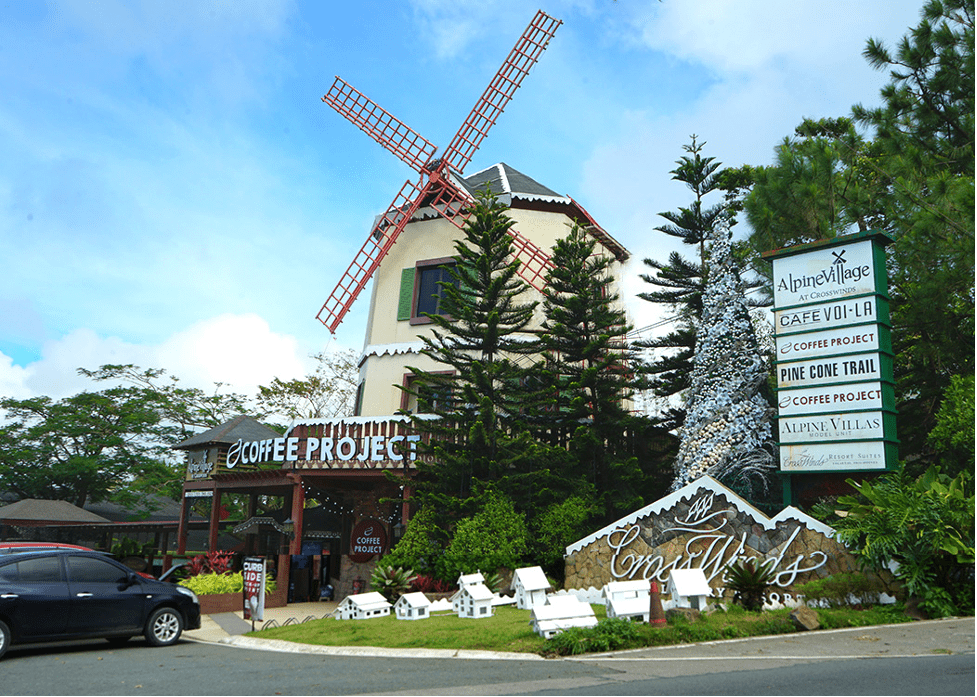 Enjoy the breathtaking backdrop at Crosswinds Tagaytay when you visit Coffee Project.
COFFEE PROJECT
Established in an accessible area where Coffee Bean and Tea Leaf once stood, Coffee Project is a trendy hang-out place that mixes classy interiors with tasty coffee. If you ever need a spot to chill out and spend a few hours with your friends, nothing can match this establishment in terms of accessibility, quality, and beauty.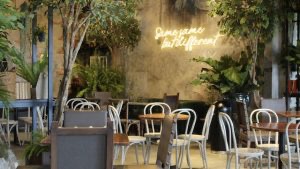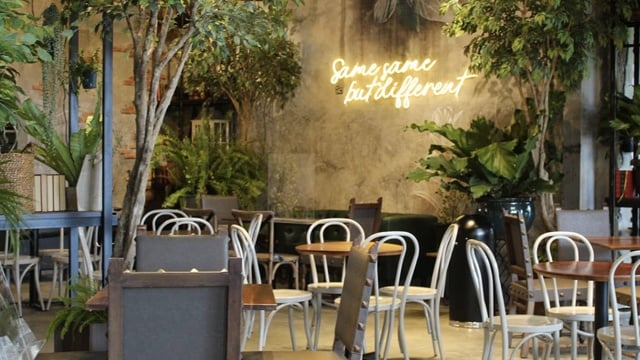 Ruined Project is an industrial, biophilic-style cafe that serves Coffee Project's signature, best-tasting coffees, and beverages. (Image from Ruined Project / Facebook)
THE RUINED PROJECT
TRP has a unique twist when it comes to interior design. Intentionally created to appear ruined and unfinished, The Ruined Project gives off a sense of discovery and awe every time you step through its doors.
Bare concrete, exposed beams, and wooden rafters already give off a rustic vibe, and coupled with the abundance of tastefully applied, thriving greenery within, space is a feast for the senses.
And since it's a part of The Coffee Project franchise, you can rest assured that whatever they serve within is only the best quality, high-end materials. If you're looking for a unique, Instagrammable spot for your and your friends, then you need to look no further than the next upstart to Tagaytay's coffee scene is right inside Crosswinds.
Live: Luxurious Comforts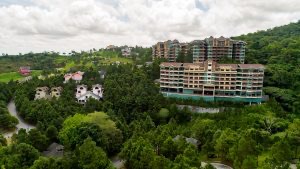 Enjoy a peaceful weekend with your family at the Grand Quartier in Crosswinds, Tagaytay.
Within the walls of Crosswinds, mute the incessant noises of the city and enjoy life at your own pace. Take your family to the playground nearby, walk through the green pine forests, and enjoy the cold water of the swimming pool.
Beautiful as it is, experience Crosswinds not plainly for the sights, the smells, and even the taste. It also offers the best kinds of amenities around, which can allow you to live your best life within.
EASY ACCESS TO THE CITY
Tagaytay's proximity to Metro Manila affords one the choice of going to the great metropolis without planning a multiple-day trip. Your luxury homes in Crosswinds are an ideal destination for road trips or vacations, being only a 2-hour drive from the great city.
In the future, travel time is sure to be further shortened with the development of the Cavite-Tagaytay-Batangas Expressway that will make access to Batangas, Cavite, and Metro Manila much easier than in the past.
This makes living in Crosswinds Tagaytay supremely easy because it means that one can easily visit family members and friends, or they can easily come and vacation to your residences without much hassle. Whether it is a quick weekend trip, a vacation house, or a full-on permanent dwelling, get to experience Crosswinds as the ideal destination.
LOCATED IN A PRIME AREA
You won't regret settling in or even investing in Tagaytay, because the area is prime real estate, whether that's in terms of security, environment, and weather. The area that Crosswinds is a part of is one of the safest around. Tagaytay is already a reputably safe place, which is no surprise, seeing as there are a lot of upscale communities that necessitate 24/7 security to ensure ease of mind.
Tagaytay is also free from worries that plague the lowlands below. It is located in a prime elevation so that it never has to experience flooding, which is a pervasive and seasonal nuisance in the cities below. You will never have to worry about storms and flooding destroying your property and inconveniencing your life. It is also an environmentally conscious city, which means it suffers less from polluted landscape and air.
Furthermore, Tagaytay enjoys almost perfect weather all year round. If Baguio is the summer capital of the country, Tagaytay is its younger brother that is less known but offers the same kind of quality. This place enjoys lush greenery, and a constant breezy coolness even in the middle of summer months, which makes it a great vacation place and a perfect residential area.
COMPLETE WITH EVERYTHING YOU NEED TO EXPERIENCE CROSSWINDS
But wait—you don't even have to get out of Tagaytay to get what you need!
Within the city, you can find everything you need for a comfortable life. It is filled with the best hospitals, highly qualified schools, and universities, public markets, malls, and shopping centers, gym and activity areas, hardware, and everything you need for necessities.
And there are not just functional amenities as well. Tagaytay is full of fun places and activities as well, such as visiting the Taal volcano and lake, cycling through popular destinations such as the awesome 50-foot figure Our Lady of Manaoag statue at Tierra de Maria, or visiting the picturesque Picnic Grove which is just right beside it, full of activities such as ziplines, swimming, and even horseback riding.
There's also the popular Sky Ranch, where you can enjoy tall Ferris wheels, rides, amusement parks, overlooking the Taal vista.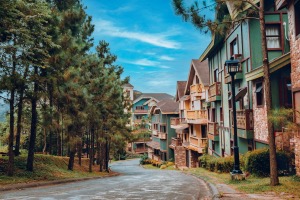 Experience Crosswinds and discover all the corners of the most beautiful estate in Tagaytay City.